The Hot Tamale Brass Band creates an exciting musical excursion into New Orleans
Mardi Gras parades, Dixieland Jazz and Second Line traditions

The Hot Tamales jam at local Boston clubs
Perform as a Mardi Gras band at theme parties
A Second Line band for all types of parades
The Hot Tamale Brass Band plays Dixieland for people of all ages.


*SEE THE HOT TAMALE BRASS BAND AT FENWAY PARK*

PRE-GAME SHOW EVERY HOME GAME SINCE 1999




Hot Tamale Brass Band
Boston Red Sox favorite New Orleans jazz band
posing with the 2004 world series trophy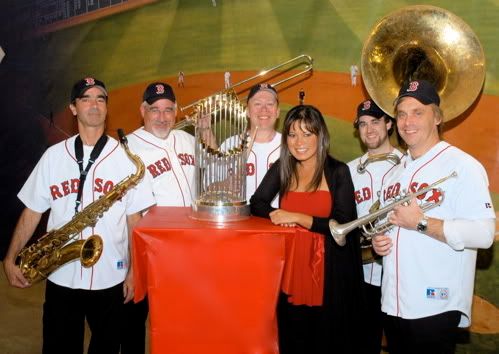 Hot Tamale Brass Band and Hazel Mae with the 2007 World Series Trophy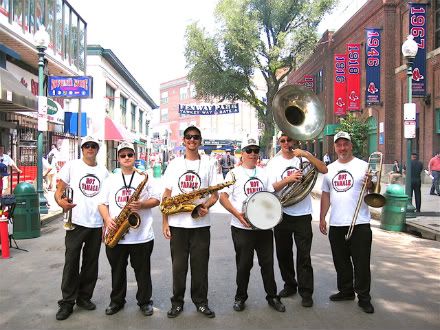 Hot Tamale Brass Band At Fenway Park



"GO GET 'EM 2013 RED SOX"

HOT TAMALES ARE BOOKING EVENTS FOR 2013

CALL MICKEY BONES AT 617-864-4474
FOR HOT TAMALE BRASS BAND JAZZ



BUY OUR FULL CD OR SINGLES

The Hot Tamale Brass Band Plays Funky New Orleans Jazz




*BOSTON GLOBE – "Inspired and spirited"

*BOSTON HERALD – "Enjoyed the live music" "Hot Tamale Brass Band heats up the neighborhood"


The Hot Tamale Brass Band have their origins in the colorful Dixieland band that used to hold forth during the late 19th and early 20th centuries in New Orleans. It was not unusual at Mardi Gras time at fairs, weddings, conventions, patriotic celebrations and other special occasions to see a dozen or more brass bands, or a Dixieland band making the environs of the Crescent city resound with the sounds of Dixieland band music.
As far as style - rhythmic and, tonal and dynamic material - is concerned, New Orleans music and it's tangential Dixieland band drew on many exciting sources - African polyrhythmic elements, the black spirituals, the work songs, and western and central European musical models which found their way to American shores.
The first outstanding Dixieland band exponent is generally acknowledged to have been Jack "Papa" Laine who attracted attention around 1892, when he organized a group known as the Reliance Brass Band. During the the next dozen or so years many Dixieland band players won recognition, and by 1910 there were two main schools of Dixieland band styes of playing. The difference between them involved not so much the matter of instrumentation as it did the rhythmic characteristics of the music.
One school -the Original Dixieland Jazz Band - was exemplified by the fast rhythms and rather staccato and agitated execution, The other school, usually identified with the New Orleans Rhythm Kings, was identified by a smoother rhythm. Both had one characteristic in common - the fastening of syncopation and polyrhythmic ideas into one - and two measure phrases repeated again and again.
If these two Dixieland band schools are used as a yardstick, the Hot Tamale Brass Band can be described as a synthesis of both, the end result...a great Dixieland band and a great funky New Orleans brass band.

Dixieland band Boston




REVIEWS OF THE HOT TAMALE BRASS BAND


*Rhythm and Roots Festival Wrote;
Like jalapeno, cayenne, and habanero, the "Hot Tamales" have been spicing up the Rhythm and Roots Festival for several years now by playing and marching through the crowd as soon as each Main Stage show ends. Before long, this infectious New Orleans style band has picked up a veritable parade of merrymakers who march along with them" complete with Mardi Gras masks, beads, festive hats, costumes and streamers that sparkle and wave in the wind. The "Hot Tamales" also lead our daily Kids Mardi Gras Parade, for which dozens of kids have hand-made their own masks and percussion instruments. It just wouldn't be Rhythm and Roots without these wonderful musicians! As Emeril would say, they "kick it up a notch" !


*Boston First Night Wrote;
Dear Mickey,
Thank you so much for all your efforts and help with the First night 25th Birthday Celebration in Copley Square. Everyone had a fabulous time and our board of directors along with the visiting First Night cities called it a great success. Much of the praise belongs to you and the Hot Tamale Brass Band. You guys were the hit of the party-kept everybody dancing and the festivities hopping! Once again THANK YOU from all of us at First Night. Talk to you soon.
Gina Mullen-Production Director for Boston First Night

*BOSTON PHOENIX, Brett Milano wrote on Billy Ruane's 35th Birthday Bash at three clubs simultaneously, T.T The Bears, The Middle East and Green Street Grill;
On Tuesday, you had to keep moving, through hallways that got crowded all the time, to catch the alternating 20-minute sets at T.T.'s and both levels of the Middle East(and sometimes the music moved with you, as the Hot Tamale Brass Band paraded through the clubs New Orleans style, adding a surreal element to the proceedings).

*BOSTON GLOBE, David Wildman wrote;
One of the most important lessons that Mickey Bones of the Hot Tamale Brass Band has learned in his years of show business he learned the hard way; If your group is performing in a parade with the Ringling Brothers elephants, you should never let them put you between the elephants and the food." Bones recounted;"The parade organizers said,'When we give you the signal, you start marching in front of the elephants and start playing.' But they were running them along at a pretty good clip, and in front of us was the cornbread and the water, that was what the elephants wanted. No one told us we were going to have to run for our lives. I turned around and saw 15 elephants as big as a house rampaging towards us"



**CLICK HERE TO SEE HOT TAMALE VIDEO CLIPS ON YOUTUBE**

*EMAIL THE HOT TAMALES* mickey@hottamalebrassband.com

SANTA CLAUS JAZZ BAND (Holiday Band)

MICKEY BONES WEBSITE

HOT TAMALE BRASS BAND AT ALL ABOUT JAZZ

VISIT OUR NEW ORLEANS JAZZ FUNERAL SITE
BUY OUR FULL CD OR SINGLES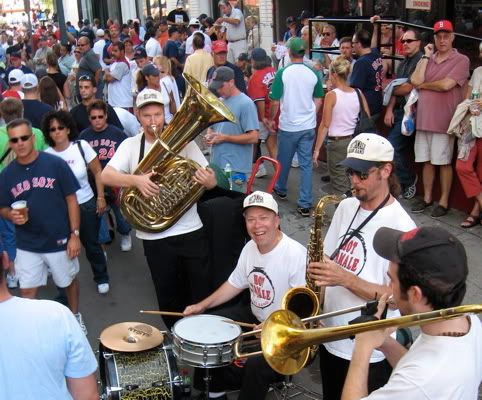 Boston Dixieland Band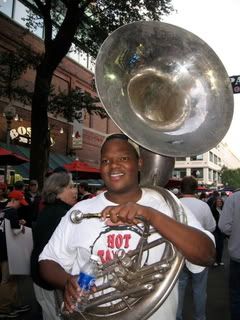 Dixieland Band Boston
TURN OFF THE PLAYER AT THE TOP OF THE PAGE TO LISTEN TO THE SONGS IN THE PLAYER BELOW
All about the Hot Tamale Brass Band in Boston, Massachusetts
We feature musicians in the Dixieland Band style. We are a musical group, We are performers in and all around New England. We can provide music like many types of party bands in Massachusetts. We work as a wedding band. We are often performing for corporate entertainment events. For wedding receptions or corporate events, we can bring our Boston Dixieland Band. We'll work with event coordinators to give you the music you need, such as a solo, duet, trio, quartet, quintet, horns, saxophone, clarinet, trumpet, tuba and drums. We are a dance band, big band, New Orleans funk band. Dixieland band Boston musicians play dixieland, New Orleans funk and ragtime jazz music. The North Shore MA bride loves her wedding band when, jazz and ragtime is played in Boston Massachusetts. New Orleans jazz music is the favorite musical style played by party bands and musical groups in this area and in New England. From Portsmouth NH to Augusta Maine, bands such as the Boston Symphony Orchestra, ragtime groups, popular music ensembles and a BOSTON DIXIELAND BAND will entertain you. We showcase all the New Orleans hits. Hot Tamale Brass band is a jazz funeral band playing Mardi Gras music and New Orleans jazz plus funeral music in Boston. The group uses Boston Dixieland band musicians and are New Orleans jazz musicians. Mardi gras musicians travel from beantown.
 A BRASS BAND, anything goes, it's the bee's knees. New Orleans jazz, always including second line brass. I keep telling you, the best band from Portsmouth New Hampshire, totally great in Providence Rhode Island. Yes, a dixieland band Boston in the 617 area code. Come see the band in RI, everybody knows that traveling through Worcester to Burlington, VT, is fun and a New Orleans jazz band from MA doesn't come through town every day. That's it ! Holyoke MASS, Did I mention crazy in Springfield, MA ? Northampton, MA ? I mean music from MASS or jumping music played in the Cape Cod area the right way, right by South Shore, MA. I just know South Shore, MA. is loving it. On the North Shore, MA, this ensemble is gonna drive you nuts! Come hear us, in Western, MA. Vermont VT, Maine ME, New Hampshire NH, Connecticut CT, New York NY, Rhode Island RI, New Jersey, NJ or just about anywhere the road takes us. We love summers down in old Cape Cod.