BUY OUR FULL CD OR SINGLES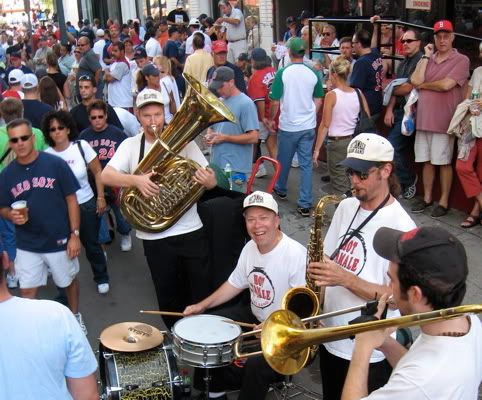 Boston Dixieland Band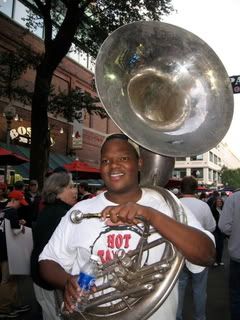 Dixieland and Second Line Band Boston
TURN OFF THE PLAYER AT THE TOP OF THE PAGE TO LISTEN TO THE SONGS IN THE PLAYER BELOW
Brief history of the second line band and dance;
The second line was developed first (without a brass band) as a circle dance in West Africa and the tradition traveled with slaves that were brought to New Orleans. These transplanted people, held as slaves by the French colonists, performed their traditional circle dances at Congo Square (still no second line band) on Sundays.
After emancipation, African and African-American circle dance slowly blended with the brass band parade traditions of the European-Americans.Though the second line started as a circle dance in Africa, over many years it got straightened out into a second line dance with a brass band for funeral processions and parades. African American Social Aid & Pleasure Clubs were organized. Members, by paying dues, would enjoy such things as community social gatherings, health and funeral benefits and public parades. These Pleasure Clubs were instrumental in keeping the second line band tradition alive. Second line parades are now firmly entrenched in the rich heritage of New Orleans.
Once only seen in New Orleans, recently, the second line popped up around the entire USA...even Boston MA.
Where the term second line originated;
The term "Second Line" comes from the traditions of the New Orleans jazz funeral. The "First Line" is the the deceased, immediate family, close friends and the brass band (in that order) leaving in a procession from a house of worship or a funeral home to arrive at the cemetery. During the procession to the burial grounds, a brass band performs spirituals and dirges. After the body is laid to rest or "cut loose", the tenor changes in the ceremony. The band plays faster, maybe a spiritual played in a second line band rhythm or a popular happier tune. This is when onlookers jump in and share the celebration for the life of the one who has "passed on". The people that join in, get behind the band to dance and follow the music are referred to as the second line. The reason that they are called the "second line" is because they are behind the "first line" (family, friends and the brass band). The style of dance can seem happy or wild and crazy, when they strut or twirl an umbrella, maybe wave a handkerchief through the air after the funeral. It is not taken as disrespectful as it may appear to some people who are uninitiated, but instead, it is seen as celebrating the life of the deceased.
In my opinion, what better way to show the deceased that we can "maintain" and still experience the joys in life even after a loved one has "passed over".
So SECOND LINE everybody, while you still can !
All about the Hot Tamale Brass Band in Boston, Massachusetts
We feature musicians in the Dixieland Band style. We are a musical group, We are performers in and all around New England. We can provide music like many types of party bands in Massachusetts. We work as a wedding band. We are often performing for corporate entertainment events. For wedding receptions or corporate events, we can bring our Boston Dixieland Band. We'll work with event coordinators to give you the music you need, such as a solo, duet, trio, quartet, quintet, horns, saxophone, clarinet, trumpet, tuba and drums. We are a dance band, big band, New Orleans SECOND LINE funk band. Dixieland band Boston musicians play dixieland, New Orleans funk and ragtime jazz music. The North Shore MA bride loves her wedding band when, jazz and ragtime is played in Boston Massachusetts. New Orleans jazz music is the favorite musical style played by party bands and musical groups in this area and in New England. From Portsmouth NH to Augusta Maine, bands such as the Boston Symphony Orchestra, ragtime groups, popular music ensembles and a BOSTON DIXIELAND BAND will entertain you. We showcase all the New Orleans hits. Hot Tamale Brass band is a jazz funeral band playing Mardi Gras music and New Orleans jazz plus funeral music in Boston. The group uses Boston Dixieland band musicians and are New Orleans jazz musicians. Mardi gras musicians travel from beantown.
 A BRASS BAND, anything goes, it's the bee's knees. New Orleans jazz, always including second line brass. I keep telling you, the best band from Portsmouth New Hampshire, totally great in Providence Rhode Island. Yes, a dixieland band Boston in the 617 area code. Come see the band in RI, everybody knows that traveling through Worcester to Burlington, VT, is fun and a New Orleans jazz band from MA doesn't come through town every day. That's it ! Holyoke MASS, Did I mention crazy in Springfield, MA ? Northampton, MA ? I mean music from MASS or jumping music played in the Cape Cod area the right way, right by South Shore, MA. I just know South Shore, MA. is loving it. On the North Shore, MA, this ensemble is gonna drive you nuts! Come hear us, in Western, MA. Vermont VT, Maine ME, New Hampshire NH, Connecticut CT, New York NY, Rhode Island RI, New Jersey, NJ or just about anywhere the road takes us. We love summers down in old Cape Cod.